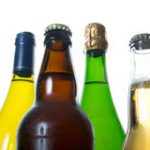 For your convenience, we offer bottled beer and wine to enjoy with your meal.
We will verify ID on pickup/delivery.
For delivery, a person over 21 with valid ID MUST come to the door, or we will return the alcoholic beverages to the store where an adult can pick them up at your convenience.
Bottled Beer
We carry a wide selection of craft brews — but a limited quantity of each. We try to keep a good supply of all these wonderful beers, but sometimes we do run out. If we are out of the one you choose, we'll give you a call to help you select an alternative. Each bottle $4.
Bottled Beer 6-Pack
Mix and match your choice. Any 6 beers for $16. Want all the same? Just click that beer 6 times. (We try to keep enough on hand, but do run low at times. If we don't have your selection, we'll contact you about a substitution.)
Wine
We offer several whites and reds, as well as a sparkling wine.