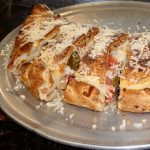 Try our Calzones, bursting with pizza flavor and your favorite pizza toppings.
Or dig into a delicious Lo-Carb Pizza Bowl — all your favorite pizza toppings without the crust.
Calzone
A folded over pizza with sauce and parmesan cheese. Choose Toppings below.
Lo‐Carb, Gluten‐Free Pizza Bowl
Marinara & mozzarella. Toppings extra. (Not made in a gluten‐free environment.)




Dipping Sauces/Dressings
Choose Ranch, Blue Cheese, Italian, Caesar, Buffalo Sauce, or Marinara.